custom size wood Pallet Collars, new, foldable, ISPM 15, 4-6 galvanized hinges.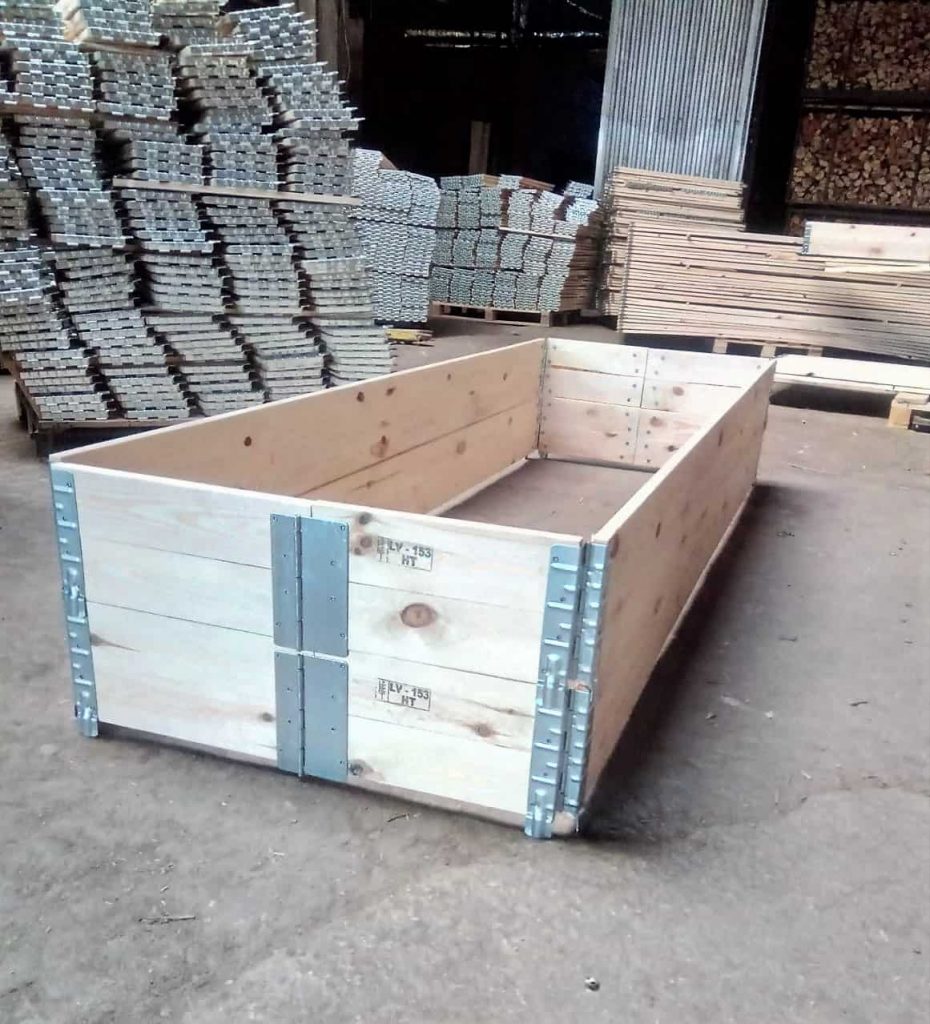 Custom Size Wood Pallet Collars are easy to fold and they are stackable. It is the perfect solution for packing, protecting, transporting, and storing products of different types and sizes. Manufacturing Wood Pallet Collars for Custom Wood Pallets. Those Pallet collars are compatible with custom size Pallet Lids and Pallet Collar Dividers.  
Material: Wood, OSB
Dimension length x width x height mm: 2400 x 800 x 200, 3000 x 800 x 200, 3600 x 800 x 200, 1200 x 1200 x 200, 1200 x 1600 x 400, 1600 x 1200 x 200, 2400 x 1200 x 200, 2400 x 1600 x 200, 3000 x 1600 x 200, 3600 x 1600 x 200, 1200 x 800 x 250, 1200 x 1500 x 355, any sizes according to costumers specification
Dimensions thickness mm: 20
Type: 1 Class 1 board, 1 Class, 2 board, 2 Class 2 board
Product: NEW
Transport packing: 60 – 120 units per pallet
NON-Standard Wood Pallet Collars, foldable, ISPM 15, 4, or 6 galvanized hinges with rivets, there is a huge variety of Pallet Collar Sizes possible to produce. The Custom Size Pallet Collars are manufactured from a high standard wood boards. Pallet Collars has four or six galvanized hinges, therefore it is easy to fold and space-saving to store them. Wood Pallet Collars packaging is a very practical solution for your logistics and warehouse. NON-Standard Wood Collars are easy to stack which gives you a safe 100% possibility to increase the product transportation height. Practical Wood Pallet Collars multi-level system for storing products is a perfect warehouse solution for your business. Wood Collars can be a good alternative for Custom Size Wood Boxes. Pallet Collars is a good packaging solution in combination with Custom Size Pallets. The Wood Collars are treated and certificated according to the IPPC/ISPM 15 standards, heat-treated, and chamber dried to below 20% residual moisture (HTKD). For this reason our NON-Standard Wood Pallet Collars are safe to export outside the EU.   
get the Pallet Collar Price List for Custom Size wood PALLET COLLARS: Transport costs and discounts included